Over the past two years, and particularly during the last Sydney lockdown, Rogers says requests for jewelry with secret meanings have "skyrocketed."
"We're not really in the business of inventory standards," he says. "But the past two years have seen an increase in the number of people wanting something very special." The signet rings have exploded, he says: the result, perhaps, of people spending more time at home and cleaning up their records or finding heirlooms.
"Even today, a baroness entered with the wax seal of her family," says Rogers. "She wants a signet ring made for each of her grandchildren." First worn by the Egyptian pharaohs and then used in the Middle Ages as stamps to sign documents, signet rings often carry hidden messages in the form of engravings. "It's a way to keep your loved ones close, even if no one knows that is really what the ring is."
Rogers anticipates an increase in the number of requests for personalized jewelry this Christmas. "People seek to connect symbolism with luxury. It is more than a jewel.
Recently, the Fairfax team & Roberts made a tennis bracelet with links meant to be replaced with diamonds for each new grandchild in the wearer's life. Likewise, the team finished a bracelet featuring raised metal domes, with a dome to put away whenever a grandchild is born. A baby's footprint can be carved into jewelry, if desired, or the fingerprints of a loved one.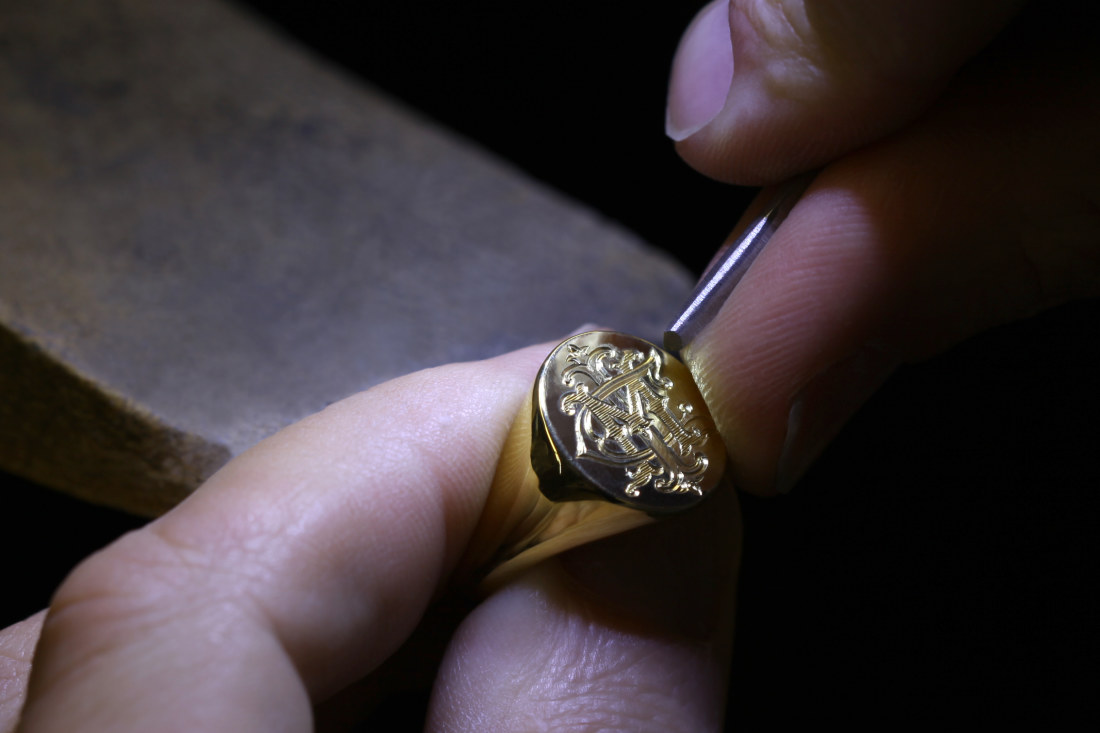 Engagement rings often have details, visible only to the wearer, such as small stones on the inside of the band. "Blue stones for blue eyes are very popular," says Rogers.
Fitch sometimes makes wedding rings for a couple that snap together when placed together. "We do a lot of engravings inside the bracelets," she says. "Song lyrics, initials, name it."
"When you personalize something, you make it a legacy," says Rebekah Schembri, Production Manager, Fine Jewelry at Fairfax & Roberts. "For us, longevity is important. One piece must stand the test of time, both [in terms of] manufacture and intention.
If you have a hard time expressing exactly what you want, Rogers and Fitch say you're not alone. "People often come up with the idea that they want something personalized, but they're not sure what," says Fitch. "And that's good, come talk to us, we can guide you. This is our job!
She urges clients to think about what's important. "Look inside and find something special about yourself and your partner, or the loved one you are thinking of," she says. "It can be as simple as using stones from a family room or creating a brand new crest."
Or, she says, it could be as outrageous and cool as a passcode one of her clients recently asked for.
"He walked in and said, 'Here's a Morse code message. Can you put him in the ring? ' I was like, "Shit! I would have liked to think about it.
It's from Life & LeisureThe 56-page Christmas gift guide, published Friday December 3, in The Australian Financial Review and AFR Weekend on Saturday and Sunday December 4 and 5.
Source link